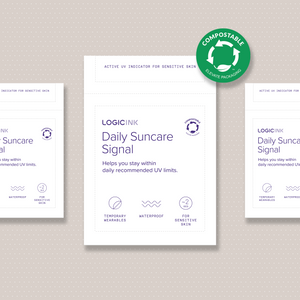 Daily Suncare Signal
$19.00
Regular price
$20.00
Applied directly to skin, LogicInk gives you easy insight into your UV limit, daily.
This innovative, imaginative sensor is designed to put you in control of your daily sun exposure in the simplest way possible. Wear it on the back of your hand for any outdoor activities in your day. Whether the sun is nowhere in sight and you want to avoid a surprise sunburn, or the sky is cloudless and the UV index is at its peak, LogicInk gives you peace of mind. It's a worry-free way for the whole family to go outside with confidence.
Monthly Program orders can be modified or canceled on a month-to-month basis by logging in.
Imaginatively designed, comprehensive indication of UV exposure
Cumulative Outer Ring
See how your UV exposure builds up throughout the day. The ring will transform clockwise to pink as UV accumulates. Understand your safe sun limit with three levels of exposure to indicate you have reached your daily (safe) sun limit, based on data from the World Health Organization.
Real-time Inner Ring
Turns pink as you are exposed to UV Rays for an instantaneous indication of exposure (even on cloudy days).
Designed for families...
Make sure your children get fresh air and you don't need to be a helicopter parent with the sunscreen. Suncare Signals are great for children playing outdoors and won't get in the way of the fun. Specifically designed to help parents be informed of their children's UV exposure before the sunburn starts to appear (and it is too late!)
That like to get outside...
Swimming? Playing Tag? Surfing? No problem. LogicInk Suncare Signals are made using a gentle adhesive that is safe on even the most sensitive skin yet resilient to water and sweat. No matter whether you're in the pool or at the beach, be confident in your suncare.
Frequently Asked Questions
How do I know when I've had enough sun for the day?
LogicInk Suncare Signals are formulated to help people with sensitive skin stay within safe UV limits based on standards set by the World Health Organization (WHO). The UV limit for a LogicInk Suncare Signal is set to 2 Units of a Standard Erythemal Dose (SED).* If your skin burns easily, you'll want to re-apply sunscreen, cover up or find shade before the last segment turns completely pink. But people of all skin types can be harmed by too much UV exposure. LogicInk Suncare Signals help everyone remember to take action to prevent skin damage, including photoaging.
* Solar Ultraviolet Radiation: Global Burden of Disease from Solar Ultraviolet Radiation, by Robyn Lucas et al., World Health Organization, 2006, pp. 5–7.
Are LogicInk Suncare Signals safe for children?
Yes! Suncare Signals are a great way to ensure your children aren't getting too much sun. The easy-to-read design clearly reminds you it's time to apply more sunscreen, cover up or give your kids a break from the sun. Use LogicInk and help minimize the cumulative effects of sun exposure that start in childhood.
Are LogicInk Suncare Signals waterproof?
Yes! Our adhesive is gentle on your skin yet resilient enough to last in the water. LogicInk Suncare Signals are for people of all ages and lifestyles.
How long does LogicInk Suncare Signals last?
LogicInk is designed to measure the cumulative effect of one day in the sun. We do not recommend you use it a second day.
Are LogicInk Suncare Signals compatible with my sunscreen?
We recommend you apply LogicInk on clean, dry skin. Apply sunscreen per your sunscreen's instructions.
Suncare Signals are compatible with pure mineral sunscreens only (e.g. zinc oxide or titanium dioxide).
When applying a mineral sunscreen on top of Suncare Signals, sunscreen will expire faster from the Suncare Signal's surface than it does on your skin, functioning as a helpful early warning to take action: re-apply sunscreen, seek shade, or cover up.
LogicInk Team
We're an energetic group of people – chemists, designers, computer scientists,  synthetic biologists, physicians, social media experts, filmmakers, and architects – dedicated to the future of health-awareness and body-based self-expression.
Learn more about us →
LogicInk's investors include Village Global, the venture firm backed by some of the world's most successful entrepreneurs such as Bill Gates, Jeff Bezos, and Mark Zuckerberg; West Ventures, market and brand experts with investor discipline; Breakout Labs, a fund within the Thiel Foundation, Metaplanet, and Atypical Ventures.
Along with Berkeley Catalyst Fund, Krillion Ventures, Mission Bay Capital, Kendall Ventures, Cloudstone Venture Capital, Marta Bulaich, Elizabeth Weil, Yoshihiro Takasawa, Richard Golob, Peter Yared, Antoine Blondeau, John Zhang, Anatoly Tikhman, James Christopherson, Jeanne Beachman, Tom Chavez, Eric Lowitt, and two Fortune 50 officers.